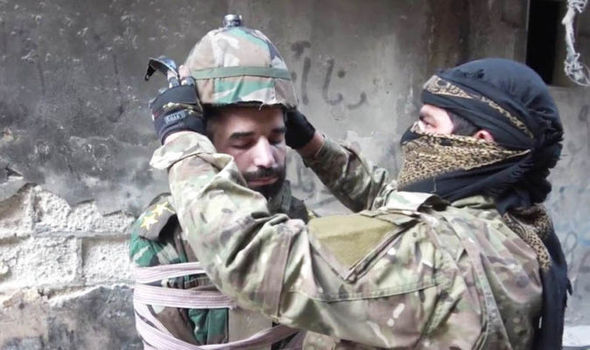 NC
ISIS has did out a depraved execution in Syria. Militants turned a captive into a person bomb.
The group's propaganda channels published video of the depraved success which shows jihadis hurling a terrified Syrian headfirst from a structure.
After hitting the rubble, explosives on the man's helmet detonate.
He was killed instantly in the denounce, which decapitated him.
The death cult has released countless other heartsick murder videos, including beheadings and mass executions by firing group.
This latest brutal killing is claimed to have taken place in Yarmouk camp, an ISIS-controlled area on the outskirts of Damascus.
One likeness released by the group shows a petrified Syrian Arab Army solider tied with cables.
An NC
ISIS militants threw the captured man from a edifice
In one image too gruesome to show, the man's headless body lies motionless on the justification.
The execution is believed to be in retaliation for recent airstrikes by Syrian and Russian armies which targeted ISIS-held territory in and around Yarmouk camp.
The stretch has seen heavy fighting since government forces began a offensive to retake rebel-held towns on the outskirts of the Syrian capital.
Before the Syrian war flat out in 2011, Yarmouk was home to Syria's largest Palestinian refugee citizenry.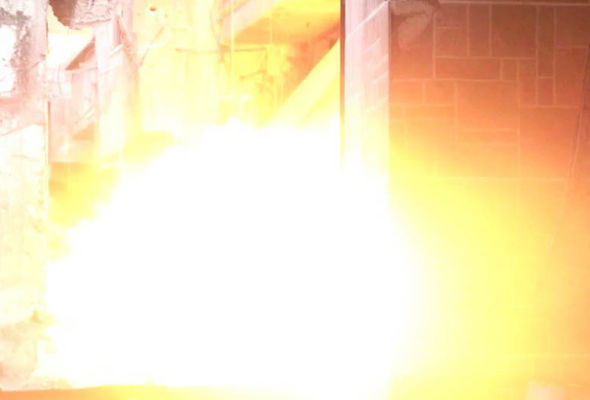 NC
The man's helmet exploded when he hit the ground
Chilling photographs from within Mosul
Wed, June 21, 2017
Iraqi forces battle to retake the last enclaves preach oned by Islamic State militants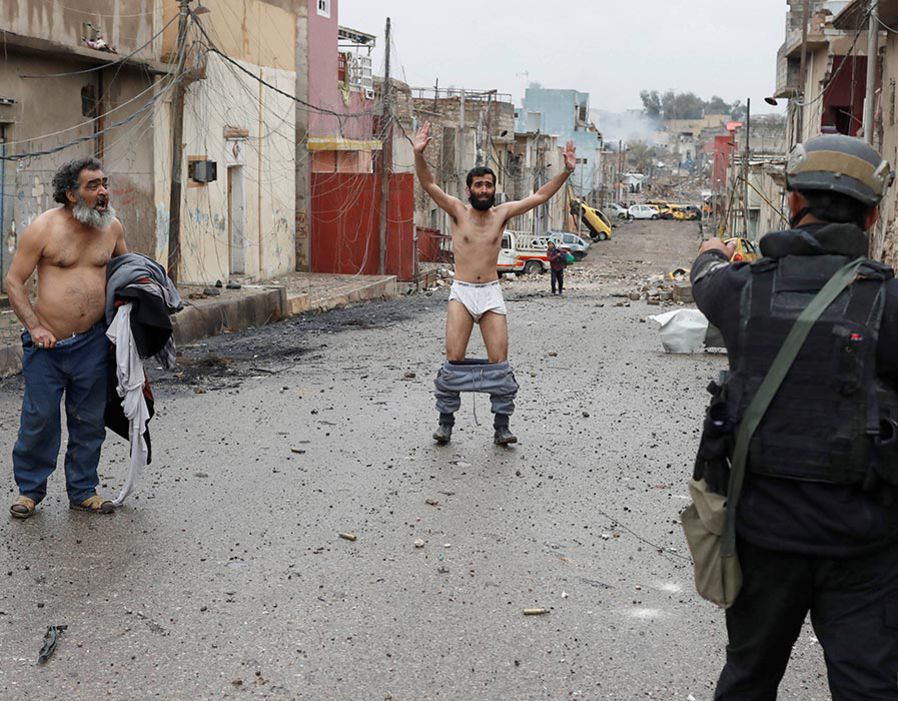 REUTERS
1 of 12
ISIS has been approached out from its so-called "Caliphate" in Syria and Iraq.
But the terror group relieve controls pockets of territory and seized Yarmouk during the height of its power in 2015.
The UN has informed around 1,200 civilians are still trapped in the besieged camp and should prefer to no access to food or medical supplies.
Pierre Krahenbuhl, commissioner-general of UNRWA, the UN energy responsible for Palestinian refugees, said: "Yarmouk and its inhabitants have faced indescribable pain and suffering over years of conflict.
We are deeply solicitous about the fate of thousands of civilians, including Palestine refugees, after more than a week of dramatically improved violence."